Jeri Robins
Director of Education
Jeri Robins spent her childhood in Cleveland, Ohio and moved to the Boston area in middle school. Raised in the Reform movement, she participated in NEFTY at Temple Beth Avodah in Newton and was active in BBYO, serving as a regional officer. She raised her family at Temple Emanuel in Newton and has held positions in both the Reform and Conservative movements, giving her a broad understanding of Jewish practice and traditions, worship styles and musical genres.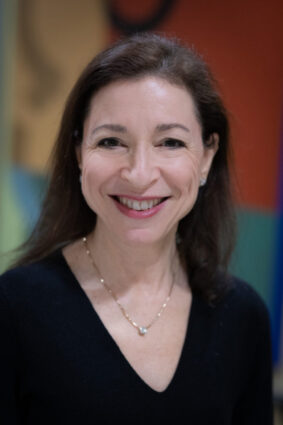 Whether on the pulpit or in the classroom, working with an individual student or teaching a group of children or adults, Jeri loves sharing her passion and enthusiasm. Hard-working and energetic, she strives to inspire a strong sense of Jewish identity and values, work collaboratively, and create meaningful learning opportunities for students and their families.
An experienced and skillful Jewish Educator who most recently held the position of Director of BJEP, the Boston-area Jewish Education Program, an independent Sunday school that meets at Brandeis University, Jeri previously served as the Director of Education and Youth Engagement at Congregation Or Atid in Wayland and the Cantor and Director of Education at Temple Tiferet Shalom in Peabody. In the classroom, she has taught grades 2-9 at a number of congregations in the Greater Boston area. In addition, while in school, she spent a summer as the Director of Jewish Life and Learning at Camp Tel Noar in New Hampshire.
Jeri became ordained as a Cantor and earned her Master's degree in Jewish Education from Hebrew College in 2013. Prior to that, she was in the business world, working in marketing and finance and as an executive recruiter. She holds a BS in Information Systems and Business from Carnegie-Mellon University and an MBA from the Sloan School of Management at MIT.
When not working at Temple Chayai Shalom, Cantor Robins is the Cantor at Beth El Temple Center in Belmont. She lives in Newton with her husband, Steve, and their Havanese dog, Fiyero (inspired by the musical, Wicked). They have two grown children, a son, Corey,  who lives in Washington, DC and works as a software engineer and a daughter, Jordan, who lives in Israel. In her spare time, she enjoys hot yoga, running, and skiing, as well as musical theater.